About College of Computer
Exchanges
CollegeofComputer Science attaches importantce to internationgal collabarations andexchanges. A good relationship has been set up between College of ComputerScience and many oversear research institutes and leading industries. Many teachersand students are sent to foreign countries to give lectures or do researches,and many foreign experts are invited to gie lectures and courses. College ofComputer Science is linked with National College Computer Education ResearchAssociation and Chongqing Computer Federation.
Invited Experts
Collegeof Computer Science have invited famouse experts and scholars at home or abroad,including IEEE Fellows to be part-time professor or visiting professor of thecollege. College Academic Advisory Board has been formed for a betterdevelopment of the disciplinary construction, scientific research and collegeeducation.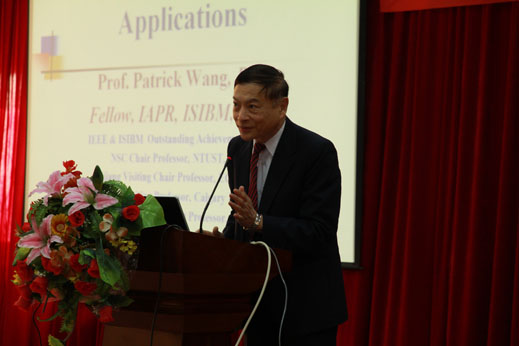 Wang Shenpei. He is a tenured professor of Northeastern University of America, IAPR fellow, IEEEFellow. He is the founder and editor-in-chief of International Journal of Pattern Recognition and ArtificialIntelligence. He was elected as a Distinguished Visiting Professor of theUniversity of Magdeburg, Germany in 1996, he won the IEEE-SMC Outstanding Achievement Award in 2007 and he was invited to give courses for graduates ofCollege of Computer Science, Chongqing University in 2013.
---
Copyright ? 2012 College of Computer Science, Chongqing University, China. All Rights Reserved.